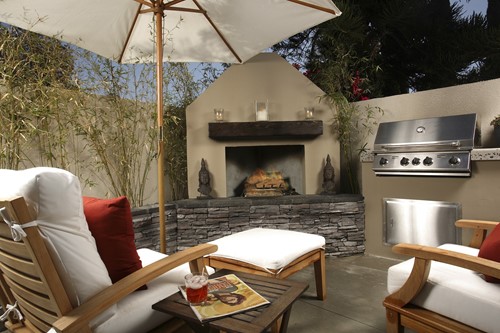 No matter what your local climate is like, you don't have to stay cooped up in your home throughout the year. If you spend little time in your yard, adding an outdoor living space is a great way to encourage you to get outside more. Outdoor living spaces provide a way for you to enjoy fresh air while getting more use out of your yard. Consider the following ideas for outdoor living spaces to get you started on planning your own.
Outdoor Kitchen
Outdoor kitchens allow you to prepare entire meals on your patio or deck. These kitchens aren't just for grilling. While you can have an elaborate grill setup as part of your outdoor kitchen, you can also have a cooktop or oven installed for preparing other kinds of foods. Your outdoor kitchen can also have a fridge to make it much easier for you to get ingredients you need for cooking, as well as beverages and ice. These kitchens can also have cabinets installed for storing utensils, plates, pots and pans, measuring cups and other items you normally use when making meals.
Outdoor Living Room
Outdoor living rooms provide a great place to relax in the open air. These living rooms can be covered or uncovered, depending on how much heat and sunlight you want in them during the day. You can fill your outdoor living room with a sofa, love seat and armchairs that are made for outdoor use. You can also add side tables or even a coffee table to hold drinks and other items. To make your outdoor living room even cozier, consider adding an outdoor fireplace. This allows you and your household to sit comfortably while gathered near a fire for warmth on chillier evenings and nights.
Outdoor Dining Room
Outdoor dining rooms offer a place for you and yours to enjoy meals and fresh air. These dining rooms can be designed to hold as many people as needed. For example, you can have a larger outdoor dining room that seats eight people if you have a big family or if you have guests over often. If you only need a dining room for a couple of people, you can set up a smaller table and chairs. Your outdoor dining room can have built-in or portable storage to hold plates, utensils and anything else you might need during your meal, so you won't have to go in and out of the house. You can also add a fire pit nearby to create a cozy atmosphere while also staying warm in cooler weather.
Outdoor Theater
An outdoor theater provides a convenient place to watch movies with your family. Depending on how much space you have available, you can set up a projector screen to make it feel as though you're at an actual theater. For more limited space, you can mount a large, flat-screen TV. Your outdoor theater can have comfortable seating and a concession stand, so you can easily grab drinks and snacks before watching a movie. If your outdoor theater is covered, you can add curtains around it, so you can watch movies without glare during the day or have more privacy overall.