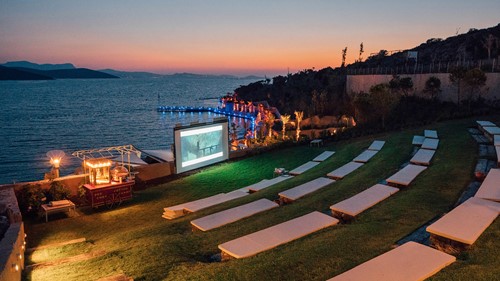 An outdoor home theater provides you with a way to watch movies under the stars, especially on mild nights. Whether you want to have regular movie nights with the family or entertain a few friends from time to time, you don't have to rely on professionals to build a home theater outside. These tips can help you create the ideal DIY outdoor home theater that you can use anytime.
Choose the Best Location
Your outdoor home theater will need enough room for a projector screen, so keep this in mind when choosing a location. You can set up a projector screen on your lawn or use an outdoor living space as a home theater. Keep weather in mind, since this might affect where you decide to put your home theater. For example, set it up in a covered outdoor living area if your area gets a lot of rain. Make sure the space you choose has room for seating, whether that's an outdoor living area or part of your lawn.
Get the Right Equipment
All the equipment for your home theater should be able to handle outdoor use. Look for weatherproof speakers and a projector to prevent rain from damaging them. Use cords, cables and other electrical equipment made for outdoor use to lower the risk of water damage, electric shock and fire hazards. Whether you use a large-screen TV or a projector screen, look into weatherproof covers to keep them safe from the elements.
Set Up Your Screen
When you're choosing a screen for an outdoor home theater, go with a large projector screen for a better viewing experience. Keep in mind that your screen size might be limited if you're planning to set up an outdoor theater in a covered outdoor living area depending on wall space. If you live in an area that gets high winds, consider getting a projector screen you can anchor to the ground if you're using your lawn. If you're using an outdoor living space, you can anchor your projector screen to a wall.
Select Outdoor Theater Seats
Outdoor theater seats can range from simple lawn chairs set up in your yard to outdoor sofas and reclining chairs for added comfort. If you're using your lawn, you can arrange high-end outdoor lounge chairs in rows for a more upscale outdoor theater. If you're using an outdoor living space, you can use outdoor living room furniture for your seating. No matter what kinds of seats you choose for your outdoor home theater, make sure you leave plenty of space between them and the screen to prevent headaches or eyestrain.
Think About Extras
To make your outdoor home theater even more enjoyable, consider having a concession stand nearby. Stock your concession stand with popcorn, beverages and other snacks and drinks, so you don't have to go in and out of the house before or during the movie. Consider keeping cushions or throw pillows close by to make seating more comfortable if needed. You can also use your outdoor theater all year round with a few extras. Keep portable heaters and heated blankets available, so you can watch movies outdoors on colder nights.